When hunting around for a photographer, you'll quickly come to find that not all of them are forthcoming about their prices. For whatever reason, they choose not to make the cost of their services public. So, you'll have to ask the photographer about it.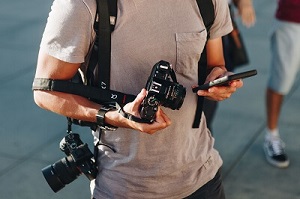 For a photographer to give you a price quote, they need to know the conditions. Name the occasion for the photoshoot, the planned date, the approximate duration, and what kind of prints you need. Their experience and additional services, such as a post-processing of the images, also impact the price.
Devising a Plan of Action
Remember, introductions are everything and it sets the tone for your relationship.
You want to ensure you're respectful, genuine, professional, courteous, and polite.
Regardless of the method, you use to contact the photographer, you want to devise a plan of action. Before making contact, you should have the following information ready and on hand:
The Event or Type of Photography Desired (wedding, portraits, head shots and etc)
The Date and Time of the Event
The Amount of Time You Want to Hire the Photographer for
Location of the Photo Shoot (catering hall, religious establishment, a specific park, their studio and etc)
The Number of People to Photograph
Your Phone Number and Email Address
Your Budget
Questions to Ask the Photographer
Next, you want to come up with a list of general questions that are relevant to you and your event. You can either ask or do some background research.
Any of the following will influence a photographer's price:
How long has the photographer been working in the industry?
Does the photographer have experience photographing similar events?
Does the photographer have any formal education in their field?
Do they use traditional film or digital photography formats?
What kind of equipment does the photographer use?
Does the photographer have experience indoors, outdoors or both?
Does the photographer have a gallery or portfolio you can view?
Do you like the photography they do? Are the pictures clear and crisp? Do they use an artistic "eye" within the frame of any given photograph?
What will the turnaround time be until you receive your photos? How long will it take? What is the latest date you need to have the photos?
How will you receive the photos? Does the photographer have them printed or will you get a jump drive/memory stick?
Are there any reviews about this photographer? Can you locate past clients and get their opinions?
Researching the Photographer before Contact
To get a good idea of a photographer's pricing, you want to look around at other places that do publish their costs.
Get a general idea of the price range. Generally, seasoned long-time pros will cost more than newer photographers.
On the website, social media page, or another online listing for a potential photographer, there should be some reviews, photographs, and an about/resume section. In most cases, you can find out how long they've been a photographer, what kind of work they do, their approach, and what people think about them.
But, if you're going solely by phone, then you may have to do a little more leg work. Your initial phone call might not be short because you're going to have to ask about things like experience and scheduling a time to see their portfolio.
Evaluating Photos
When looking at their photo gallery or portfolio, make sure you can identify the following things and truly evaluate whether you like it or not. If the photographer has pristine photographs with quality work, they will cost quite a bit of money to hire.
But, if you don't know what you're looking at, you could get taken for a ride; paying more money than your photos will end up being worth.
Are the colors crisp and clear or are they flat and muddy?
Do they make good use of color? Do their subjects blend into the background?
Is the subject blown out from too much light? Alternatively, is it difficult to see the subject because it's too dark?
Do the photos look grainy, blurry or have lines? Do they show motion where they shouldn't?
Reading Reviews
Then, you want to see if you can find reviews from previous clients. You can use things like Yelp or Google Maps in conjunction with any testimonies on their website or social media page.
But remember, take reviews with a grain of salt. Oftentimes they aren't as reliable as we'd like them to be.
Engage Several Photographers
It's a good idea to get quotes from four or five different photographers. Do preliminary comparing and contrasting. Ask each the same questions so you can get a good, overall picture. Use the same method of scrutiny for each so you can have a balanced, unbiased view.
Mode of Contact
There are several ways you can ask a photographer for their prices. You can call, send an email or talk through social media.
The best method will be evident by the information the photographer provides on their website or social media page. 
For instance, if you find their website, they may have a contact form. But, some photographers will list only an email or phone number. 
Social Media
Some photographers are solely on social media platforms. You want to treat it somewhere between an email and a phone call, especially if you contact them via Direct Messaging (DM).
Phone Calls
However, actually talking to them on the phone or in-person will give you a more tangible experience. You can get a feel for their demeanor and attitude toward you and your event. Take note of what they say and what they don't say.
Sample Conversation
Try to keep the first contact short and sweet. This is more applicable to emails, contact forms, and social media. But, if they seem to rush through the first phone call, they're probably busy. So, keep the conversation to the bare-bones basics of what you're looking for.
Starting It Off
The way you start off the conversation will basically be the same. Consider the following:
"Hello There [or name of the photographer]!

How are you? My name is __________ and I'm looking for a photographer to take pictures of [a wedding, portraits, etc.]. It will be on [event date] at [event time]. I was wondering if you are available that day and if you have some time to discuss your pricing?"
Phone Calls ; Social Media DMs
Once you begin your official conversation, if you are talking to them on the phone or in real-time on social media, then you may want to say something like:
"Thank you for replying so quickly! I was curious about how much you charge for an average photoshoot for [portraits, weddings, etc.]?"
At this point, the photographer will probably ask you more questions about the event before they throw a ballpark figure at you.
This is where your preliminary information from earlier will come in handy.
Answer their questions as quickly, politely, and accurately as possible.
When They Give You a Price
Once they give you a price, respectfully say thank you and that you have to think about it. Tell them you appreciate their time and you will get back to them shortly.
Things to Consider after Talking to the Photographer
You mustn't agree to their price right away. You want to think about it for a day or two in comparison with your budget. Also, consider how they made you feel in conjunction with what you think about their photography. 
If you want to hire them, be sure to call them back within two days. This is because your time slot might not be available or they're waiting on you before they decide to take on another client. A photographer's schedule changes from moment to moment. So, you want to take your time, but not too much.
If you decide to go with a different photographer, always call the ones you contacted within a few days. Simply thank them for their time, but you went with another photographer. Also, say something along the lines of how you'll keep them in mind for next time.
What NOT to Say
Don't tell them you're looking at other photographers or throw the price of another photographer at them.
Don't offer a critique of specific photographs, be broad and tell them you enjoy their work (or something similar).
Don't offer your budget right away or ask them if they can suit your budget right off the bat. You can ask about this later on for the second phone call or first meeting. Only tell them this if they ask you about it first.
Don't be rude, obtuse, selfish, inconsiderate or insensitive. Be professional and don't give them your life story.
Avoid lengthy emails and DMs. Keep emails to two or three paragraphs and one or two lines for DMs.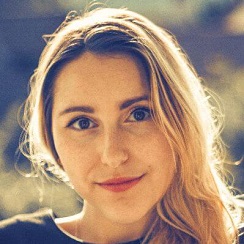 Sophie Hammond is a journalist, psychologist, and freelance speechwriter for people in politics and business. She lives on the edge of the Rocky Mountains with her dog and a lifetime supply of books. When she's not writing, she can be found wandering through nature or journaling at a coffee shop.