It may seem like a touchy topic, but if you are firm about no children at a party, make sure everyone invited understands that. At the same time, understand some of the people you invite aren't going to show up if they can't bring the little ones along.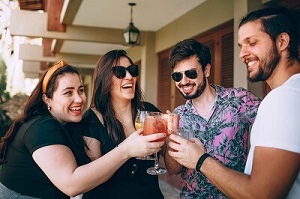 To tell someone not to bring their children to a party, make this clear in the invitation. In the RSVP, limit the maximum number to 2 people and reassure any concerned parents that this is not a personal decision.
Never assume they won't bring their kids, make sure it is clear from the start this is an adult-only event. This alleviates the risk of anyone showing up with kids in tow and you have to turn them away when they arrive. That can become a sticky situation in a hurry and one you need to avoid.
Make Sure the Invite Says Adults Only
Any time the children aren't invited to the party, make sure the invitation says so!
It should be hard to miss as they read through the information. The type of event often warrants it is for adults only.
What to Say:
"18 and older Halloween party! This one is too scary for the little ghosts and goblins to be a part of!"
"We love your family and all the joy they bring, but please understand this event is for adults only. No children will be in attendance for the dinner or the dance."
"Adult Night Out! It is time to step out of your comfort zone and have some fun! Cut loose with other adults for a fun night of casino games and drinks! Make sure you tell the sitter you will be home late! This is one event you won't be in a hurry to leave early from!"
RSVP
A great way to make sure someone has read it is for adults only is to ask them to RSVP by a certain date. This helps you plan for the event because you know how many people to expect.
Seating, food, and other details have to be finalized and you don't want to worry about enough space or items for everyone.
The RSVP also helps you see if they are trying to bring their kids. Their RSVP should say 1 if they are coming along or 2 if they bring a date/partner. If they have 3 or more written down, that is a red flag they may be planning to bring the kids along.
You can immediately contact them to discuss this and resolve the issue.
What to Say:
"Kindly RSVP by the 25th if you will be attending and if you will be bringing a guest. We need a final count for the event."
"Please let me know if you will be attending and how many will be attending."
"Your reply including how many people will be coming is greatly appreciated so we can plan accordingly."
No Exceptions
Unfortunately, there will be those that still ask you if they can bring their kid to the party.
They will tell you how well-behaved they are. They may share the baby is too little to stay with a sitter yet or they are breastfeeding.
Stand firm with your decision that no children are allowed at the event, don't make any exceptions.
What to Say:
"I know your son is an amazing young man, but there are no children at this party. I can't make an exception for him. I know some great sitters though if you need a referral. He will enjoy spending time with them while you are out for a few hours."
"I realize you may have to go home early to feed your baby, and that is understood. We hope you will come to enjoy the party with us. Don't feel guilty when you have to leave, we know you have other priorities to take care of."
"We will have other parties when the kids are welcome. This is simply one where we don't have any wiggle room on it. No one under 18 will be attending the gathering."
Call Them to Discuss the Reason Why
If someone seems upset or presses the issue, call them to discuss why. You can keep it short and simple or you can elaborate. It all depends on your relationship with them.
You won't want any hard feelings, but you do need people to respect that this will be a kid-free event.
Avoid getting into a power struggle with them or allowing them to make you feel guilty either.
What to Say:
"Hi, I wanted to talk to you about the invite to the party and the reason for no children. Your reply gave me the impression you were upset about this. The type of party we are hosting isn't a good environment for children and we hope you can understand that."
"I don't want you to be upset that your children can't be at the wedding. It is a very high-end dinner and the venue space is limited. We had to make that difficult decision to get the location we wanted and invite the people in our lives. It is going to be a spectacular event and I hope you will consider coming."
"I don't want any hard feelings between us because your daughter can't come to the party with you. If you can't make it for that reason we do understand. I hope you will reconsider though and come connect with other adults for the evening. It will be a party to remember!"
Send Them a Text or Email
If you worry someone will get irate on the phone or they will argue, send them a text or an email.
Share with them it isn't personal, but that it is your decision on the party and you expect them to respect it.
What to Say:
"The decision to not include children isn't personal to you and I hope you aren't taking it that way. We feel it is best no children are at this event, and that goes for all of our invited guests."
"This isn't a family-oriented party, and that is why we are saying adults only. We hope you come enjoy it with us."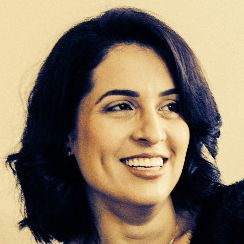 Katie Holmes is a senior author at everyday-courtesy.com with over 15 years of experience in marketing and psychology. As a freelance consultant, she also supports companies and executives in overcoming communication challenges. Katie is a passionate digital nomad working on her first book on the art of communication.