It isn't rude to ask for another person on the phone, but how you do so makes a difference.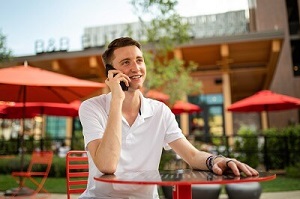 If you ask for another person in business phone calls, be cordial but make sure you value their time too. When calling privately, be friendly to whoever takes the phone call, have a brief conversation, and then ask for the other person.
Asking for Another Person During a Business Call
For business calls, it isn't uncommon to be routed to a secretary. They are the first point of contact you have with the business. Sometimes, there is an automated directory and you can choose who you will speak to. There are times when you aren't sure who you should talk to, so you have to share your order of business to find out.
Cold Call
A cold call is one where you don't know the other party and you haven't previously done business with them. You are reaching out to make a connection with them.
Being polite on the phone can help you get your foot in the door.
The person on the other end of the line is more willing to help when you are courteous.
What to Say:
"Good morning, can I please talk to someone in advertising?"
"Hello. I saw your job advertisement online and would like to get some additional information. Who may I talk to regarding that?"
"Hi. May I please talk to Mr. Brown?"
"Hi, how is your day going? I am not sure who I need to speak to, can you help?"
"Good afternoon. May I please be transferred to Miss Smith or leave a message for her to call me back?"
You Are Familiar
When you have previously interacted with a business, asking for another person gets easier. You may be following up on your last conversation. You may have asked who to talk to and now you have a further explanation.
Still, you need to take the time to be polite and professional to the person answering the phone.
What to Say:
"Hi, I hope you had a wonderful weekend. This is John Michaels and I would like to speak with Michelle Perez, please."
"Good afternoon, I hope your day is going well. Can you kindly connect me with marketing?"
"Thank you for your help last time I called, I appreciate it. I would love an opportunity to talk to Christine Johnson today, please."
"Hello, is there a direct line I can call to speak to Derk Carter? I feel terrible taking up your time each time I call and asking you to transfer me."
Transfer to Another Department
Your business dealings may require you to talk to more than one person within the organization that day. There is no need to hang out and call back.
As you finish your call with one department, ask them to transfer you.
This should be an easy enough process for them to assist you with. You can also do this if you discover you reached the wrong department initially.
What to Say:
"It was wonderful talking to you today. I also need to speak with the accounting department. Can you kindly transfer me to them?"
"Thank you for your help today, I appreciate it. Can you please transfer me to Human Resources? I have some things I need to discuss with them today also."
"Before we hang up, do you know who I should speak to regarding a donation for the charity we discussed? If so, can you give me their information and also transfer me?"
Asking for Another Person on a Personal Call
For personal calls, you can be less formal. There may be several people in the household you wish to talk to. Perhaps someone answers who lives there, but that isn't who you called for. It is a good idea to be pleasant to the person who does answer the call. You don't want them to feel like you don't like them or that you were rude to them.
Always take the time to acknowledge anyone who answers the phone.
It doesn't matter if it is the child, spouse, or parent of the person you are calling. It shows good character and it helps you create a relationship with them on some level too.
There will be times when you don't know the other party, but you should still do your best to be friendly and polite to them. You never know where your relationship with the person you are calling will go. How you treated other people in their life can have an influence.
Calling Someone You Know Well
Some people you call often. They are your best friend, a family member, or someone you enjoy chatting with. You get to know the other people in their household too, and that makes it easier to strike up a conversation before you ask to talk to the person you called for.
What to Say:
"How are you today? Can I talk to your mom, please?"
"Hello, Miss Duncan. Is Jimmy home?"
"Hi, Mr. Perez. I love your Christmas light display this year! Can I talk to Kim, please? I want to see if she has time to shop at the mall with me."
"Hi, Eric! Have a nice day at work. Is your wife available?"
Multiple People, You Wish to Speak To
There are times when you wish to speak to multiple people in the same household! While everyone may have a cell phone these days, you can ask to speak to others. This is especially common around the holidays. It may be something you do when you call just to say hello and hear familiar voices too.
What to Say:
"Mom, it has been great talking to you. Can you put dad on the phone? I want to talk to him for a bit too before I go to work."
"Grandson, you melt my heart! I always enjoy our talks. Can you please put your sister on the phone?"
"I am glad you are home for the weekend! Can you put Chad on the phone for a minute before I got it? I want to get his opinion on a car I am looking at purchasing."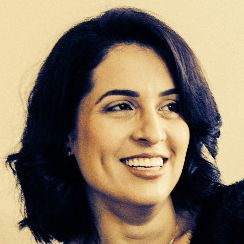 Katie Holmes is a senior author at everyday-courtesy.com with over 15 years of experience in marketing and psychology. As a freelance consultant, she also supports companies and executives in overcoming communication challenges. Katie is a passionate digital nomad working on her first book on the art of communication.